Industry 4.0 and the Internet of Things (IoT) are synonyms for connected devices that allow the owner to gain more efficiency and productivity from their equipment. The ability to control light switches in a home with a voice command, t-shirts that recognize your heart rate while exercising, utilizing smart technology in your refrigerator to know when you need more milk, or adjusting your HVAC remotely utilizing an intelligent thermostat. Each of these solutions offer a clear path to enhancing your productivity and saving you money.
The world of IoT in manufacturing, often called IIoT (Industrial Internet of Things) is no different. Smart sensors, improved control technology and the ability to interact in near real time with those solutions, when embraced and utilized by the workforce, creates a more efficient and effective utilization of equipment.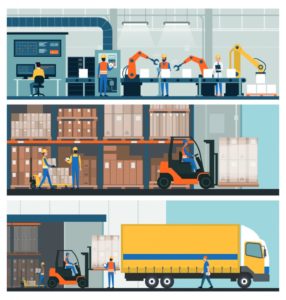 There are however a number of points to considering a partner when venturing into the world of IoT. There are many IoT businesses pushing their way into the world of IoT without considering all of the tools required for a manufacturing operation. We will discuss IoT through the lenses of Security, Solution Sustainability, and Success.
Security is a key offering in an IoT solution. Industrialized IoT hardware offers multiple advantages to the IT organization by micro-segmenting a machine cell with all accompanied equipment, offering firewall, IP address translation and 256-bit encryption to a secure true private cloud on the backbone of the internet. Security methods that rely on ever changing passwords, heavy IT infrastructure with onsite servers and development, increase an already overloaded IT department's workload. Additionally those that do not require the network separation of machines and company network files create additional paths for security concerns. IoT solutions should allow for direct connection to equipment through an always on connection, created using a secure digital key to unlock the machine controls and work to diagnose and repair a machine problem remotely.
The solutions offered by your IoT provider should be sustainable and well developed. Does the solution integrate well with other business systems such as your ERP, MES, or system dashboards? Is it flexible enough to inexpensively offer a wide user base? Does it offer solutions built around quality escapes and preventative maintenance? Will the application be simple enough for our team to utilize it effectively? What is the cost to create upgrades?
If these questions are not clearly articulated the chances of your company experiencing an internal IoT revolution will be difficult. IoT solutions can be offered in modular software as a service format, each with accompanying API (Application Programming Interfaces) to allow simple integration into existing company software. Key modules include advanced analytics that proactively drive quality escape notifications or preventative part maintenance issues to key decision makers, while also reducing the working burden of coding downtime and overall equipment effectiveness.
IoT solutions can also offer a custom mobile portal direct to your smartphone with incredible depth of machine information immediately at your fingertips, and the web based system offers a simple intuitive structure to build solutions for your team without heavy IT requirements. Sustainable custom reporting is treated as set it and forget it, since the data is always flowing, the reports are continually updated and delivered on schedule before morning startup meetings or weekly planning sessions. Finally the solution offers the ability to future proof each organization by offering a continual upgrade with as many as eight enhancement cycles per year offering increased capability in the solution.
A recent McKinsey study estimates that the IoT has a total potential economic impact of $3.9 trillion to $11.1 trillion a year by 2025. IoT will be an industry revolution, and the battle plan is picking up speed every day as more and more devices and machines are connected. So, when considering your IoT partner, remember to understand their offering through the lenses of Security, Solution Sustainability, and Success, and properly position your organization to achieve a deeper level of success through a more deeply connected operation.