Stratasys 3D Printer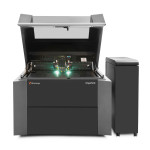 Overview
Description
ROBOSHOT 15
3D Prototyping cell – increasing your speed to market. 
Roboshot is the next generation of Artificial Intelligence (AI) in injection molding machines, with higher precision and more reliable molding capabilities than ever before. Engineered for greater rigidity, Roboshot's proven performance makes it the perfect solution for clean rooms and other molding environments that demand precise process control, high-speed injection and consistent repeatability.
PolyJet technology is the exclusive method of 3D printing offered by Object Connex™ 3D Printers from Stratasys®  giving companies the ability to build injection molds in-house, quickly and easily. PolyJet printing creates 3D objects by positioning successive layers of liquid photopolymer into desired configurations. Plastic is then cured by UV light and ready to install into an injection molding machine to produce realistic plastic parts.
Highlights:
Combination of fast-printed mold inserts and high-performance injection molding machines
Designed to produce injection molded parts in short prototyping series, including fast mold inserts change
Correcting molding inserts during printing stage allows quick finalization of new product design
Process flexibility saves development time
Produces injection molded parts with real physical properties
Financial
Product Quote