Single Screw Series PAK
Quality Built for Reliable, Long-Term Operation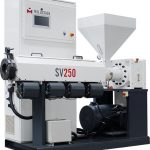 Description
Milacron PAK Series of Single Screw Extruder Systems gives all the advantages for productive operation.
Standard AC motor & drive package.
Double reduction gear reducer with heavy duty integral roller trust bearing for extended life.
Large cast-in water jacket in feed throat for efficient cooling.
Bimetallic barrel with rupture disc for long life.
4-Bolt swing gate for faster die changeover.
Standard discrete control package or optional Mosaic microprocessor control.
Analog melt temperature and melt pressure indication.
Production Smooth Bore (PAK) models available from 2.0″ up to 10″ or larger.
Floor Mounted (S-PAK) or Pedestal Mounted (S-PAK-T) Coextruder models available from 3/4″ through 1-3/4″.
Grooved Feed (G-PAK) extruders available from 45mm through 150mm.
Specification
Financial
Product Quote