DME XPress™ Mold Bases
PRECISION INTERCHANGEABLE PLATES, FULLY FEATURED, IMMEDIATE DELIVERY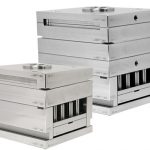 Overview
Description
Ships Same Day or Next Day*, Precision Interchangeable Plates, Fully Featured
The all new DME® XPress™ Mold Base sets the standard for shipment expediency with 58,000 combinations ready for same or next day shipment.
Click one of the buttons below for more information on select DME XPress Series mold bases.
THE DME XPRESS ADVANTAGE
Stress Relieved & Pre-Hardened Steel:
Increases your cutting speeds
Reduces machine center spindle time
Avoid unnecessary downtime
Extended tool life
DME #3 premium P20 steel –  "Machined 4 Quality"
Interchangeable Plates:
Precision machined
Repeatable
Replacement plates ship same day
Off The Shelf:

58,000 configurations
Engineered and validated
Immediate shipment*
Immediate Quotes and Orders – eStore:
Configurable mold base
Real-time pricing on-line 24/7
Add to cart, Order
Emailed confirmation
Configure, Price, Order < 1 Minute
Standard Mold Base Features Include:
 5 or 7 Plate Design
23 Sizes –  8"x 8" to 19"x 24"
9 A/B-Plate thicknesses – 7/8" to 5-7/8"
162 A/B-Plate combinations
Rail Heights 2.5"- 4.5"
#3 Premium P20 steel for A and B-Plates
Steel Finish Ground ± .001"
Center Hole A-side only (optional)
Guided Ejection – system #3 (optional)
Return Pins – inboard (prevents spring breakout)
Locating Ring (optional)
Sprue Bushing (optional)
Lift Holes – Top Clamp/Support plates
Vented Leader Pins
Type C Clamp Slots
Pry Bar Slots on parting line and ejector plate
Chamfering on all plate edges
Stop Disks
3-Piece Ejector Housing with shoulder bolts
*Plates ≥ 5 7/8" thick may require additional time for delivery.
Financial
Product Quote