Long-time plastics processing solutions partner, 20/20 Custom Molded Plastics, recently expanded its Milacron-only fleet with the addition of an 8,000-ton press.
Milacron recently installed the largest injection molding machine ever manufactured by a North American-based original equipment manufacturer (OEM) for its decades-long customer, 20/20 Custom Molded Plastics, LLC of Holiday City, Ohio.
Known as the "big brother" to Milacron's C-6750 machine, also produced for 20/20 in 2021, the C-8000's platen design, as well as its functional size-to-fit multiple molds, give this machine a leg up in the plastics manufacturing space. It features a clamping force of 8,000 U.S. tons, and total shot weight of 325 pounds, that's received from two -130,000 injection units with a 260 mm feed screw providing a 5-inch-per-second injection velocity.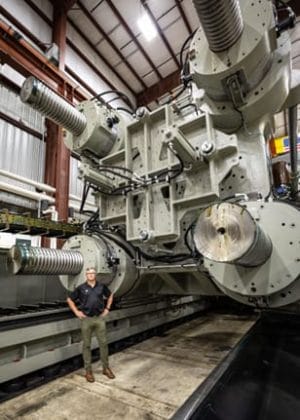 The C8000 weighs 1.8 million pounds, excluding the mold. The moving platen cast weight comes in at 152 tons, and the guts of this machine contain nearly 38 miles of wire.
"The sheer size of this machine is hard to put into words, but its unique design and processing stats speak volumes," said Mac Jones, President of Milacron. "The C8000 is a large-part powerhouse designed by some of the best plastics processing engineers in the world that delivers the highest performance, functionality and flexibility possible in the large-tonnage space. Partnering with customers like 20/20 by providing cutting-edge solutions remains our focus, as well as our commitment, to the plastics processing industry."
Ron Ernsberger, Owner and President of 20/20, says his company has always been a fan of Milacron's clamp technology and reliability. "Their machines are workhorses," says Ernsberger, who emphasizes that reliability and redundancy are of critical importance to his operation. "We want machines we can not only rely on for maximum repeatable output, but that make our employees' lives easier with software control platforms and processing technology they are familiar with, as well as machines that are easy for them to transition between while servicing a variety of customer needs."
The massive C8000 and its smaller counterpart, the C6750, are the latest in a long line of large-tonnage machines produced for the northwestern Ohio company. The Milacron-only 20/20 fleet consists of 45 machines comprised of a combination of 28 low-pressure injection molding (LPIM) machines, and 17 high-pressure injection molding (HPIM) machines. The partnership continues to flourish as Milacron evolves in the plastics processing solutions space.
"As a custom molder, we always want a plan for what doesn't quite yet exist," said Mike Gepfert, Chief Operating Officer at 20/20. "In order to be competitive, we can't be constrained. Milacron understands this about us and has always been willing to take it to the next level. The capacity of these two large-tonnage machines thrusts us into a unique niche of custom molders."
MilacRON: The 'next big thing'
The Milacron C-8000 results from a decades-long vision and organic collaboration. Ron Hertzer, Milacron's Director of New Product Development for many years (and, 40-year veteran of the injection molding industry), and 20/20's Ernsberger, laid the foundation for these cutting-edge machines that would be in demand by large-part plastic processors before they even reached completion.
"The Milacron C-6750 and C-8000 came to be due in large part to two experts in the industry who never settle for the status quo," explains Jones. "Ron Ernsberger's vision conceived the prototypes from market demand he saw coming through the pipeline. And, our Milacron team was the brains behind the custom design and development of both monster machines, with our Ron Hertzer at the helm."
The magnitude of production the Milacron machines offer is now 20/20's "claim to fame," according to Ernsberger. "The capacity these large-tonnage machines provide thrusts us into a unique position within the marketplace that's unsurpassed," he said.
Serving a variety of 'tier one' industries, Ernsberger says 20/20 must remain relevant and be willing to "push the envelope in a competitive economic climate." That's where he says Milacron has always stepped up to the table with next-generation technology. "Our plastics manufacturing at 20/20 requires a great deal of redundancy, 'same as,' ease of transition and reliability, and Milacron has met these expectations repeatedly, which is why we continue to turn to them when we're ready for the next big thing," said Ernsberger.
The C6750 machine had a full docket of customers slated for production by the time it went live on 20/20's production floor in 2019, according to Ernsberger. "The C6750 was already sold out by the time we actually started running it," he said. "Another larger-tonnage option was needed as a back-up. Shortly thereafter the C-8000 was conceived. With Milacron, it's been a true partnership."
The markets driving the increased level of activity in the large-tonnage machine space are material handling (large plastic pallets), underground enclosures for telecommunications and utilities, drainage and irrigation products, commercial/institutional, and industrial and safety products. Milacron continues to answer the market demand with two more large-tonnage injection units scheduled in the pipeline for a 2024 install at 20/20.
"Our decades-long solutions-based partnership with 20/20 elevates Milacron's drive-to-deliver performance model," says Jones of Milacron. "It's our intention to set the standards, drive innovation and lead the industry in the plastics processing space. Loyal partnerships with customers like 20/20 help us pave the way."