Die Heads
Overview
Whether you need a new design or an OEM replacement, Milacron delivers exceptional quality and precision craftsmanship in every die head we manufacture. Our die heads are designed to maximize the extruder's output performance while maintaining product quality. They also come with features that allow timely and efficient change-overs. 
We have a large selection of the most popular styles and sizes in stock and ready to ship. Our experienced team of engineers can also help you design unique dies specific to your plastic extrusion process. We offer a Customer Stocking Program to ensure we have all your specific extrusion dies readily available whenever you need them. With Milacron's die heads, you can increase the versality of your machine while helping to decrease overall downtime.  
Available In
North America
South America
Asia/Pacific
Europe
Additional Info
Milacron offers the MPH solid wall PVC die head, PH solid wall PO pipe die head, and Genca brand die heads. Each of these die heads is designed to enhance the effectiveness and efficiency of PVC pipe production. Milacron employs its extensive PVC processing knowledge to incorporate features that deliver high performance and ease of operation.  
The MPH and PH die head flow paths have been optimized to consistently produce smooth, quality pipe with minimal overweight. Both die heads also come with a quick tip change-over system and a quick twist die change-over system. This allows you to produce a wide range of products with minimal downtime. Milacron's MPH PVC and PH die head help increase the flexibility, productivity, and efficiency of your PVC and PO extrusion processes.  
The Genca brand die head flow path has also been optimized to help consistently produce high quality precision medical, wire and cable products. Like our MPH and PH, the Genca die head comes with an easy to change tip and die configuration that allow for quick change overs, allowing you to produce a wide range of products with minimal downtime. Milacron's Genca brand of die head increases the flexibility, productivity and efficiency of your medical, wire and cable extrusion process.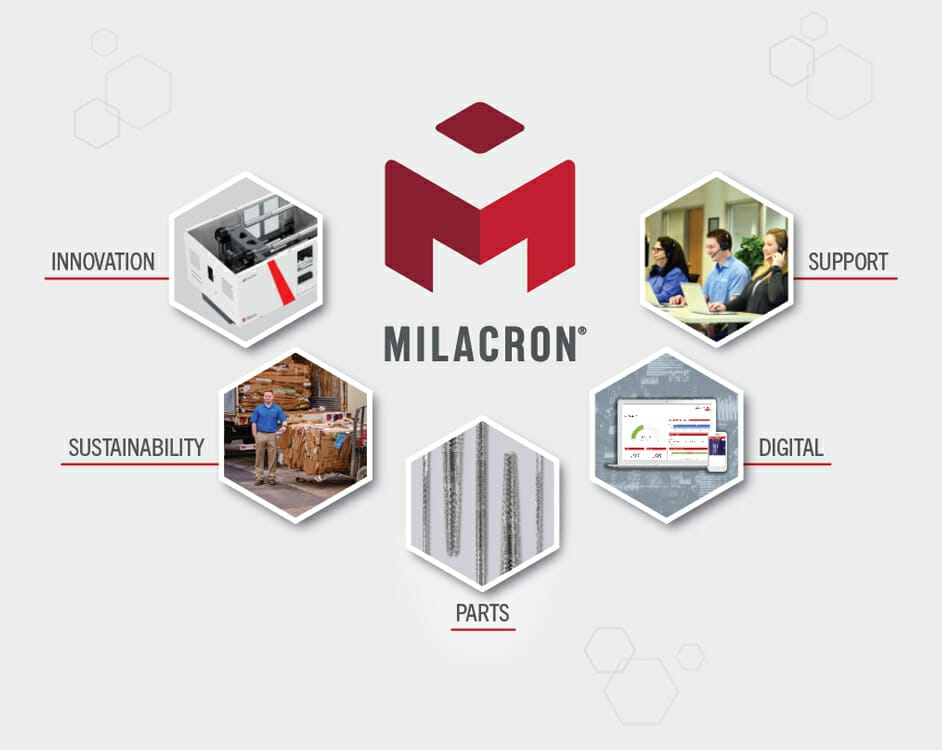 More than Machines
Milacron is the global leader in plastic processing solutions. We partner with our customers throughout the lifecycle of their equipment, helping them achieve their business goals. From sustainability consultation to training and advanced Industrial Internet of Things (IIoT) platforms, we focus on helping you leverage our industry-leading technology and talent to optimize your processes and maximize your production.
More than machines, Milacron is a partner that delivers possibilities.
Your Partner in Plastics
Milacron transforms plastics into possibilities.
Contact us today to learn more about our complete plastic processing solutions.
Downloads
Die Heads