Q-Series

Overview
High quality production in a compact frame, featuring servo hydraulic technology that minimizes energy usage.
Milacron's Q-Series is the next generation in our low-to-mid tonnage range of injection molding machines. A high-performance machine in a durable package, the double toggle design leverages a servo-hydraulic package to deliver quality parts at a rapid pace while minimizing energy use. The Q-Series provides clamp specifications with greater tie bar spacing, clamp stroke, ejector stroke, and force in a smaller machine footprint. 
The Q-Series has 10 clamp tonnages that are paired with 6 variations of injection units allowing for a wide range of operational capacity. Clamp, injection unit, screw, and barrel technologies can be configured to optimize the production of a large range of parts. 
The Q-Series is a globally engineered platform delivering both efficiency and consistency.
Reduced Energy Consumption
Available In
Europe
Asia/Pacific
North America
South America
Additional Info
Powered by a new generation servo system, the Q-Series' servo-hydraulic package delivers exceptional toggle kinematics for fast and smooth clamp velocity profiles. The bi-directional hydraulic pump is engineered for rapid pressure control while operating at a lower maintenance cost. The closed-loop system also improves cycle precision and repeatability allowing for rotational control to a fraction of a degree.
Leveraging the servo motors in combination with hydraulic components gives the Q-Series exceptional repeatability and energy savings.
Features
The Q-Series comes standard with features that increase speed, accuracy, and capacity. The clamp design provides for better tonnage linearity allowing minimum tonnage to go lower than previous toggle designs. With generous tie bar spacing and a rectangular platen design, the Q-Series accommodates a vast range of molds and allows for advanced mold versatility. The injection unit offers six-stage injection velocity profiles, five fill pressure steps, and ten pack/hold pressure steps. 
Developed with excellence as a baseline, the Q-Series also comes with a suite of optional features to meet your production environment.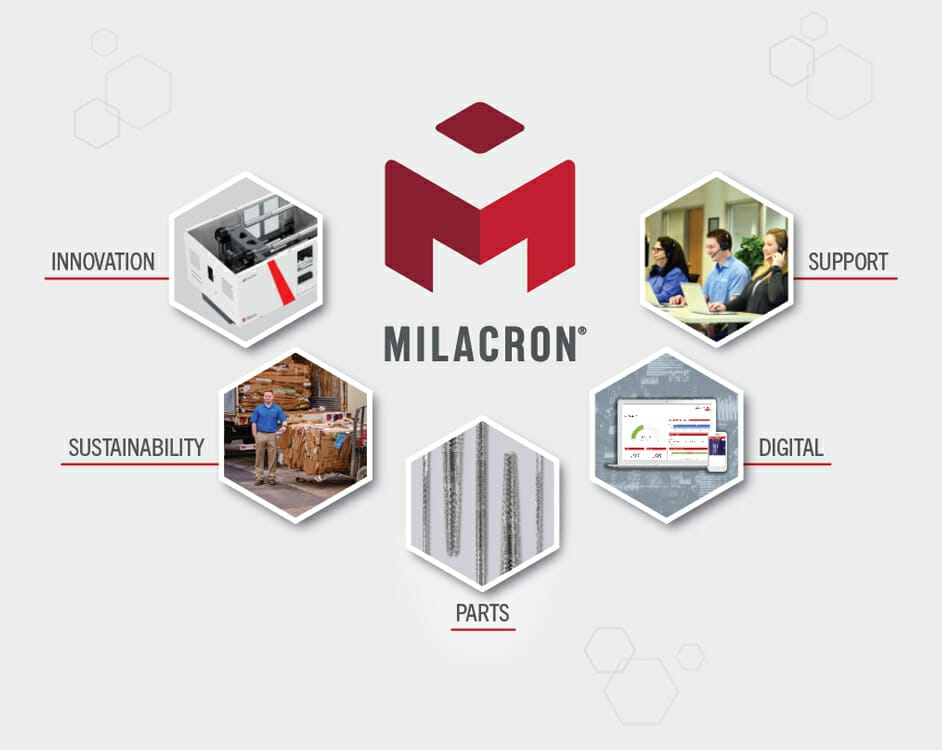 More than Machines
Milacron is the global leader in plastic processing solutions. We partner with our customers throughout the lifecycle of their equipment, helping them achieve their business goals. From sustainability consultation to training and advanced Industrial Internet of Things (IIoT) platforms, we focus on helping you leverage our industry-leading technology and talent to optimize your processes and maximize your production.
More than machines, Milacron is a partner that delivers possibilities.
Your Partner in Plastics
Milacron transforms plastics into possibilities.
Contact us today to learn more about our complete plastic processing solutions.
Q-SERIES INJECTION UNIT SPECIFICATIONS
| Injection Unit | 28 | 32 | 40 | 450 | 630 | 970 | 1540 | 2290 | 3470 | 4880 |
| --- | --- | --- | --- | --- | --- | --- | --- | --- | --- | --- |
| Q-Series 55 | X | X | | | | | | | | |
| Q-Series 90 | | X | X | | | | | | | |
| Q-Series 125 | | | | X | X | | | | | |
| Q-Series 170 | | | | | X | X | | | | |
| Q-Series 200 | | | | | X | X | | | | |
| Q-Series260 | | | | | | X | X | | | |
| Q-Series 315 | | | | | | | X | X | | |
| Q-Series 400 | | | | | | | | X | X | |
| Q-Series 500 | | | | | | | | X | X | |
| Q-Series 610 | | | | | | | | | X | X |
Q-SERIES CLAMP SPECIFICATIONS
| Model | Tonnage | Platen Dimensions | Tie-Bar Spacing | Max Daylight | Min/Max Mould Inst. Height |
| --- | --- | --- | --- | --- | --- |
| | US Tons | mm (H x V) | mm | mm | mm |
| Q-Series 55 | 55 | 500 x 485 | 325 x 310 | 630 | 150 / 350 |
| Q-Series 90 | 90 | 610 x 565 | 405 x 360 | 710 | 150 / 400 |
| Q-Series 125 | 125 | 690 x 645 | 480 x 435 | 900 | 150 / 520 |
| Q-Series 170 | 170 | 780 x 740 | 550 x 510 | 1060 | 200 / 600 |
| Q-Series 200 | 200 | 810 x 770 | 575 x 525 | 1100 | 200 / 600 |
| Q-Series 260 | 260 | 920 x 820 | 660 x 560 | 1260 | 200 / 710 |
| Q-Series 315 | 315 | 990 x 940 | 710 x 660 | 1400 | 250 / 750 |
| Q-Series 400 | 400 | 1120 x 1035 | 810 x 725 | 1520 | 300 / 800 |
| Q-Series 500 | 500 | 1245 x 1200 | 875 x 830 | 1670 | 350 / 820 |
| Q-Series 610 | 610 | 1330 x 1300 | 1000 x 900 | 1820 | 400 / 900 |
Downloads
Q-Series