Overview
With customer safety always the top priority at Milacron, we offer a full line of Quick Mold Change products developed to decrease downtime between mold changes. Our solutions include both vertical load and horizontal load style hydraulic clamping systems, mechanical locking bayonet clamping systems, and magnetic mold clamping systems. Milacron also offers customized solution products, such as mold change tables for horizontally loading molds into your machinery, along with quick connect multi coupling systems for mold to machine compressed air connections, water connections, hydraulic core and valve gate connections, and electrical connections. At Milacron, we can configure quick mold change solutions to fit your customized production needs. 
Milacron's experienced process engineers will help you design and implement the right system for your process. Our equipment is machine agnostic and can be included on new machinery or retrofitted in the field on existing machinery of any make or model. Engineered and built to the highest industry standards, our quick mold change solutions are built to withstand rigorous daily use. With Milacron's Quick Mold Change solutions, you can increase the versatility of your machine while decreasing overall downtime.
Available In
Asia/Pacific
Europe
North America
South America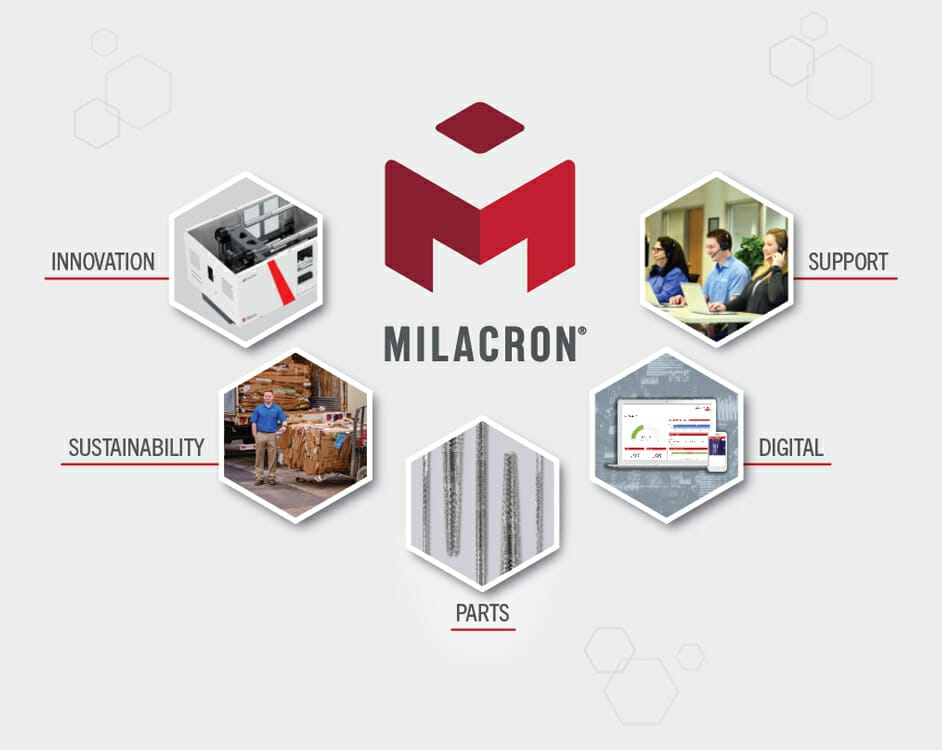 More than Machines
Milacron is the global leader in plastic processing solutions. We partner with our customers throughout the lifecycle of their equipment, helping them achieve their business goals. From sustainability consultation to training and advanced Industrial Internet of Things (IIoT) platforms, we focus on helping you leverage our industry-leading technology and talent to optimize your processes and maximize your production.
More than machines, Milacron is a partner that delivers possibilities.
Your Partner in Plastics
Milacron transforms plastics into possibilities.
Contact us today to learn more about our complete plastic processing solutions.
Downloads
Quick Mold Changes