Roboshot
Overview
The industry standard-setting technology found in the Roboshot is Advanced Artificial Intelligence (AI) in all-electric injection molding machines.
The culmination of our partnership with FANUC, the Roboshot is our most versatile and precise all-electric machine. The platform features the next generation of artificial intelligence (AI) with mold and eject protection and injection molding preventative maintenance features that keep plastics processors running smoothly. Our systems can alert the operator before problems occur, provide more effective maintenance, fewer repairs, less downtime, and reduce human error. Our LINKi2 networking solution even allows you to remotely monitor your Roboshot and can interface with ERP systems using Euromap communications. The Roboshot's user-friendly control operation and functionality means you can quickly set-up with minimal training.
With its 100% electric design, there is no oil, filtration, and disposal to worry about. Roboshot is designed to reduce energy consumption by 50 to 80% while maintaining repeatable and precise cycles that are 5 to 50% faster than hydraulic machines.
Engineered for greater rigidity, Roboshot's proven performance makes it the perfect solution for cleanrooms and other environments that demand precise process control, high-speed injection, and consistent repeatability.
Available In
North America
South America
Asia/Pacific
Europe
Additional Info
Drawing on 60 years of continuous development, the Roboshot's movements are entirely controlled by FANUC servo drives that offer industry-leading uptime and maintenance-free operation. Every Roboshot comes standard with 4 servo motors that enable separate control of clamp opening and closing, ejector, screw, and injection processes. Precise V-P switchover, pressure control, and temperature control also deliver part uniformity cycle after cycle.
The Roboshot's pre-injection functionality enables the time between the beginning of injection molding and clamping force build-up to be determined freely. Enhanced mold venting is controlled by injection timing. By using the pre-injection function, your cycle times may be reduced by 0.3 to 0.7 seconds. 
User-friendly and featuring standard interfaces, FANUC servo motors give you CNC precision, fast processing times, and consistent parts quality.
Features
With models capable of exerting clamping forces from 17 to 550 US tons, Roboshot has the largest range of injection unit sizes on the market. Wide platen and tie bar spacing allows for larger mold sizes, increasing the Roboshot's flexibility. The machine also comes standard with an advanced toggle mechanism that leverages our industry-leading technology for faster cycles, lower maintenance, and a longer machine and component life.
The Roboshot's standard features allow for the production of almost anything from thick wall camera lenses to micro medical products that require high levels of dynamic force. Thanks to a wide range of options, even standard Roboshots can produce specialized items like liquid silicone rubber, powdered metal, and ceramic parts.
Standard features on the Roboshot include configurable cores sequences, flexible I/O, and lights-out operation sequencing. Developed with excellence as a baseline, the Roboshot also is available with a suite of optional features to meet your production environment.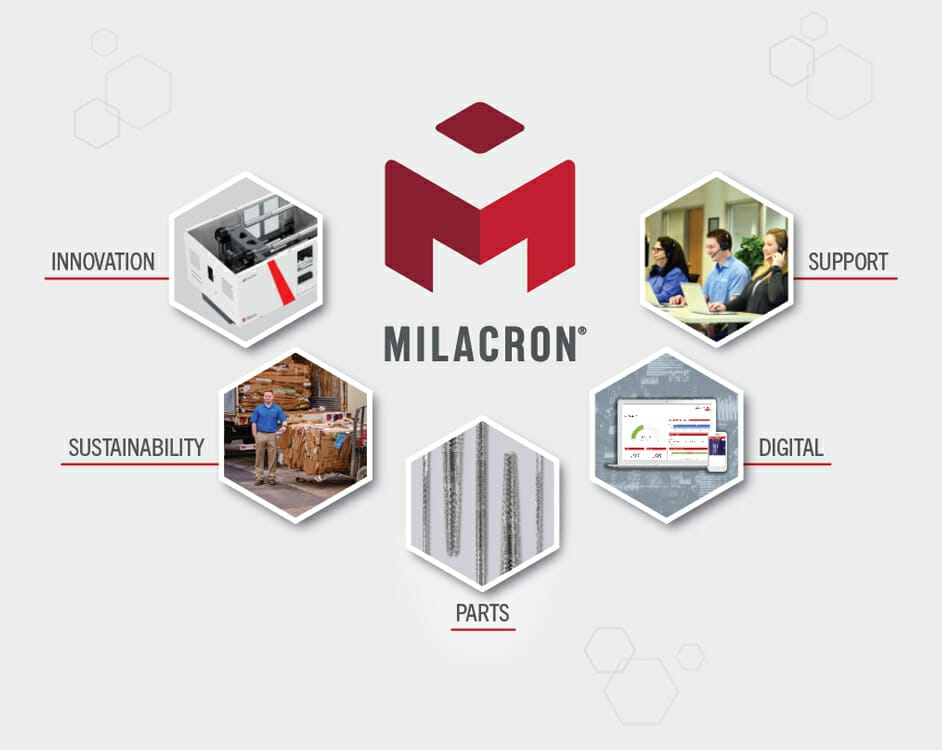 More than Machines
Milacron is the global leader in plastic processing solutions. We partner with our customers throughout the lifecycle of their equipment, helping them achieve their business goals. From sustainability consultation to training and advanced Industrial Internet of Things (IIoT) platforms, we focus on helping you leverage our industry-leading technology and talent to optimize your processes and maximize your production.
More than machines, Milacron is a partner that delivers possibilities.
Your Partner in Plastics
Milacron transforms plastics into possibilities.
Contact us today to learn more about our complete plastic processing solutions.
Roboshot Injection Unit Specifications
| Frame | 14mm | 16mm | 18mm | 20mm | 22mm | 26mm | 28mm | 32mm | 36mm |
| --- | --- | --- | --- | --- | --- | --- | --- | --- | --- |
| ROBOSHOT 17-iA | 8 | 11 | 18 | | | | | | |
| ROBOSHOT 33-iA | 8 | 11 | 18 | 22 | 27 | | | | |
| ROBOSHOT S55-iB | 8 | 11 | 18 | 22 | 27 | 48 | 55 | 72 | 138 |
| ROBOSHOT S110-iB | | 11 | 18 | 22 | 27 | 48 | 55 | 97 | 138 |
| ROBOSHOT S140-iB | | | | | 27 | 48 | 55 | 97 | 138 |
| ROBOSHOT S165-iBm | | 11 | 18 | 22 | 27 | 48 | 55 | 97 | 144 |
| ROBOSHOT S165-iB | | | | | | 48 | 55 | 114 | 144 |
| ROBOSHOT S240-iB | | | | | | 48 | 55 | 114 | 144 |
| ROBOSHOT 275-iA | | | | | | 48 | 55 | 114 | 144 |
| ROBOSHOT 330-iAm** | | | | | | 48 | 55 | 114 | 144 |
| ROBOSHOT 500-iAm | | | | | | | | | |
| ROBOSHOT 500-iA | | | | | | | | | |
Roboshot Injection Unit Specifications
| Frame | 40mm | 44mm | 48mm | 52mm | 56mm | 64mm | 68mm | 72mm | 80mm | 90mm | 100mm |
| --- | --- | --- | --- | --- | --- | --- | --- | --- | --- | --- | --- |
| ROBOSHOT 17-iA | | | | | | | | | | | |
| ROBOSHOT 33-iA | | | | | | | | | | | |
| ROBOSHOT S55-iB | | | | | | | | | | | |
| ROBOSHOT S110-iB | 171 | | | | | | | | | | |
| ROBOSHOT S140-iB | 171 | | | | | | | | | | |
| ROBOSHOT S165-iBm | 171 | | | | | | | | | | |
| ROBOSHOT S165-iB | 178 | 252 | 300 | 416 | | | | | | | |
| ROBOSHOT S240-iB | 178 | 252 | 300 | 416 | | | | | | | |
| ROBOSHOT 275-iA | 178 | 252 | 300 | 416 | 604 | | | | | | |
| ROBOSHOT 330-iAm** | 178 | 252 | 300 | 416 | 604 | | | | | | |
| ROBOSHOT 330-iA | 178 | 252 | 300 | 416 | 604 | 788 | 890 | 998 | | | |
| ROBOSHOT 500-iAm | | | 300 | 416 | 604 | 788 | 890 | 998 | | | |
| ROBOSHOT 500-iA | | | | | | | 890 | 998 | 1706 | 2159 | 2665 |
Roboshot Clamp Specifications
| Model | Tonnage | Platen Size (HxV) | Tie-Bar Spacing (HxV) | Max Daylight | Min/Max Mould Thickness |
| --- | --- | --- | --- | --- | --- |
| | US tons | mm | mm | mm | mm |
| ROBOSHOT 17-iA | 17 | 355x340 | 260x235 | 420 | 130/260 |
| ROBOSHOT 33-iA | 33 | 440x420 | 310x290 | 560 | 150/330 |
| ROBOSHOT S55-iB | 55(72*) | 500x470 | 360x320 | 600/650** | 150/350 - 150/410** |
| ROBOSHOT S110-iB | 110(138*) | 660x610 | 460x410 | 800/900** | 150/450 - 150/550** |
| ROBOSHOT S140-iB | 140 | 730x730 | 530x530 | 970/1070** | 200/570 - 200/670** |
| ROBOSHOT S165-iBm/ ROBOSHOT S165-iB | 165(198*) | 800x750 | 560x510 | 1015/1115** | 275/675** |
| ROBOSHOT S240-iB | 240 | 900x900 | 650x650 | 1200/1300* | 250/750** |
| ROBOSHOT 275-iA | 275(330*) | 1030x960 | 710x635 | 1250/1350** | 300/750** - 300/810* |
| ROBOSHOT 330-iAm**/ ROBOSHOT 330-iA | 330(385*) | 1130x1030 | 810x710 | 1250/1350*/1550* | 300/750* - 300/950* |
| ROBOSHOT 500-iAm/ ROBOSHOT 500-iA | 500(550*) | 1300x1300 | 920x920 | 1900 | 300/1000 |
| *(Optional), ** (Optional/Single-Platen Configuration) | | | | | |
Downloads
Roboshot