Single Screw
Overview
Milacron Single Screw Extruders help bring versatility, lower production costs, and ultimately, exceptional value. Available in single screw (S), single screw mobile (SM), single mobile tilt (SMT), and single grooved (SG) configurations, our S, SM, and SMT systems are capable of handling applications including sheet, profile, pipe, medical tubing, wire, and cable. The SG model is designed to provide a consistent homogeneous melt for the production of polyethylene and polypropylene pipes. With user-friendly, ergonomic touch-screen control, our Mosaic+ controller systems maximize the reliability and adaptability of our extruders allowing for faster processing speeds, more extensive data collection, and integration with automation controls.
All our single-screw extruders include a robust gear reducer with heavy-duty integral thrust bearing that helps extend the life of your gearbox. Our single screw designs also come with a variety of clamp configurations available for faster die changeover. Engineered to last, Milacron's proprietary screw and barrel coating technologies can deliver maximum wear protection and lower life cycle costs.
Milacron's single screw extruders are engineered and built in-house allowing us to deliver machines that meet your precise needs. From new and rebuilt extrusion barrels and screws, to pipe heads, dies, and downstream equipment, you get reliable solutions that meet your unique needs.
Available In
North America
South America
Asia/Pacific
Europe
Additional Information
Milacron's screws and barrels are manufactured in house and designed to extend the life cycle of your parts while decreasing overall downtime. Our screws and barrels come standard with wear resistance coatings. This provides superior heat transfer as compared to other barrel linings. 
Produced from high quality steel, our screws can be manufactured with even more coating options like chrome plate or a carbide encapsulation for more abrasive or demanding applications. We also offer customized screw designs specifically engineered to optimize your extrusion process. 
Our team is capable of handling screw and barrel requests of any size, application, and complexity for any extruder on the market.
Features
Milacron's single screw extruders have features that offer flexibility and exceptional value. Our machines come standard with robust gearboxes designed with integral thrust bearing, oil cooling (when required), and a method of lubrication designed to match a variety of applications. We also offer gearbox re-builds and upgrades to help extend the life of your extruder.
Our Total Enclosed Fan Cooled (TEFC) motor design is a reliable, low-maintenance solution that offers efficient cooling while protecting the motor's critical components from dusty environments. With an energy efficiency rating of greater than 90%, our TEFC is also one of our most energy-efficient motors. 
Built to purpose, we offer a suite of extrusion options perfectly suited to your requirements. Our experienced team of process engineers can provide an evaluation of your existing equipment and develop extrusion solutions to meet your production needs.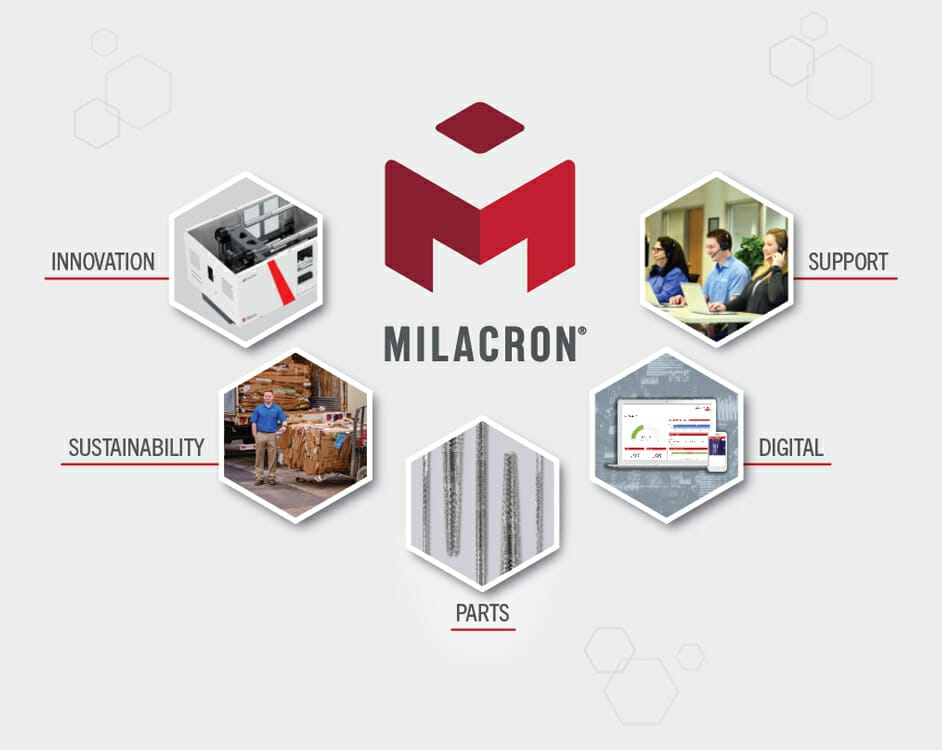 More than Machines
Milacron is the global leader in plastic processing solutions. We partner with our customers throughout the lifecycle of their equipment, helping them achieve their business goals. From sustainability consultation to training and advanced Industrial Internet of Things (IIoT) platforms, we focus on helping you leverage our industry-leading technology and talent to optimize your processes and maximize your production.
More than machines, Milacron is a partner that delivers possibilities.
Your Partner in Plastics
Milacron transforms plastics into possibilities.
Contact us today to learn more about our complete plastic processing solutions.
Single Screw Specifications- US Standard
| | Screw Diameter (in) | Screw Ratio (L/D) | Max. Melt Pressure Continuous (psi) | Screw Speed based on Gear Ratio (rpm) |
| --- | --- | --- | --- | --- |
| Model S 200 | 2.0 | 24:1 | 10000 | 100 |
| Model S 250 | 2.5 | 24:1 | 10000 | 100 |
| Model S 300 | 3.0 | 24:1 | 10000 | 100 |
| Model S 350 | 3.5 | 24:1 | 10000 | 100 |
| Model S 450 | 4.5 | 24:1 | 10000 | 100 |
| Model S 600 | 6.0 | 30:1 | 10000 | 100 |
Single Screw Specifications- Metric
| | Screw Diameter (mm) | Screw Ratio (L/D) | Max. Melt Pressure Continuous (bar) | Screw Speed based on Gear Ratio (rpm) |
| --- | --- | --- | --- | --- |
| Model | mm | L/D | bar | rpm |
| S 200 | 50.8 | 24:1 | 680 | 100 |
| S 250 | 63.5 | 24:1 | 680 | 100 |
| S 300 | 76.2 | 24:1 | 680 | 100 |
| S 350 | 80.9 | 24:1 | 680 | 100 |
| S 450 | 114.3 | 24:1 | 680 | 100 |
| S 600 | 152.4 | 30:1 | 680 | 100 |
Downloads
Single Screw