Reclamation- Granulator Solutions
Reclamation- Granulator Solutions
Reclamation- Granulator Solutions
Overview
Milacron's material reclamation solutions are engineered to help you get more from your materials and your machines. Our shredders allow you to recycle plastic by reducing it to manageable sizes. Granulators further reduce the size of recycled plastic to less than 0.01 inch (0.2 mm). By reusing materials, you can lower production costs, decrease your environmental impact, and utilize different technologies that allow you to create more products. 
Our line of reclamation and granulator solutions range from Low RPM Screenless Granulators (made for quality regrind expectations when grinding runners), Beside the Press Top Load and Front Load Granulators (for parts and runners), to Large Part Central Granulators and Shredders (for taking on the largest part applications). These reclamations systems are available to be equipped with Metal Detection, Conveyor Loading Systems, Integrated Blower Evacuation Packages, and Bulk Storage Capabilities for the regrind produced.
Whatever reclamation application challenges you, our experienced process engineers can help design the reclamation system tailored to your production needs.
Available In
North America
South America
Asia/Pacific
Europe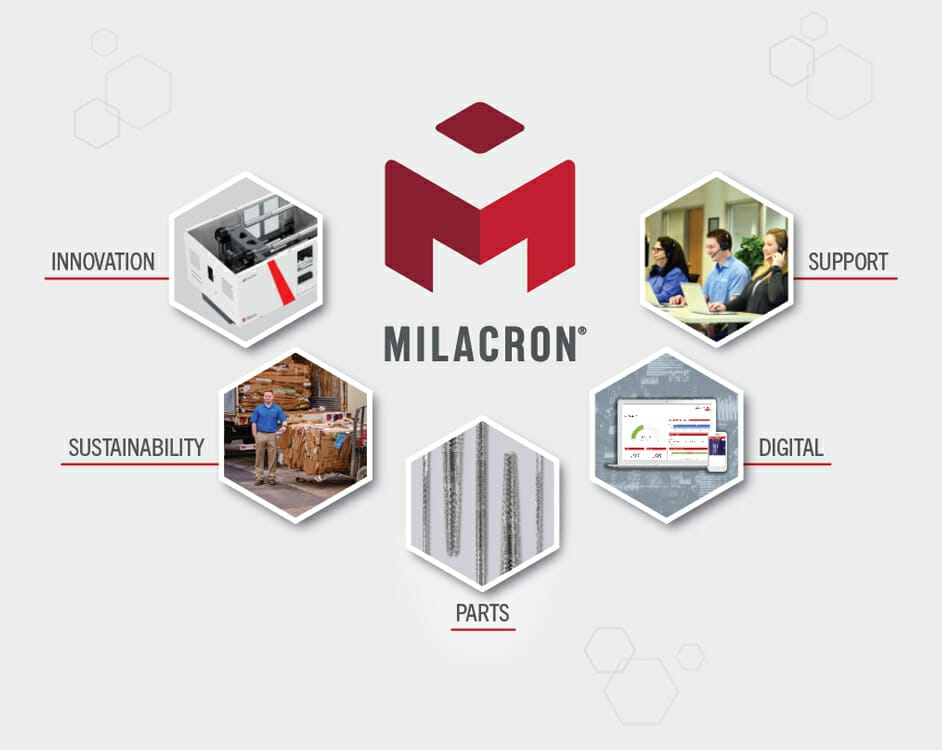 More than Machines
Milacron is the global leader in plastic processing solutions. We partner with our customers throughout the lifecycle of their equipment, helping them achieve their business goals. From sustainability consultation to training and advanced Industrial Internet of Things (IIoT) platforms, we focus on helping you leverage our industry-leading technology and talent to optimize your processes and maximize your production.
More than machines, Milacron is a partner that delivers possibilities.
Your Partner in Plastics
Milacron transforms plastics into possibilities.
Contact us today to learn more about our complete plastic processing solutions.
Downloads
Reclamation- Granulator Solutions