C-Series
Overview
Developed with excellence as a baseline, the C-Series can be configured with a wide range of options across the product line to accommodate a large range of applications.
Milacron's C-Series is the latest offering in our industry-leading large tonnage injection molding technology, designed to deliver the highest performance, precision, and flexibility. Enhanced machine specifications offer improved reliability, higher max mold weights, and faster clamp speeds. The C-series is powered by a reliable and energy-efficient hydraulic servo motor to meet the demanding market needs.
Built to excel, the C-Series offers a suite of machine options perfectly suited to your requirements. A variety of clamp, injection unit, and screw and barrel configurations are available to optimize the production of a large range of parts.
This is a true global machine in design, functionality and safety requirements. The C-Series is a large-part powerhouse that meets the demands of all the major market segments.
1500-4500 US
1300-4000 Metric
Available Tonnage
Available In
Europe
North America
South America
Asia/Pacific
Additional Info
Driven by industry-proven FANUC hydraulic servo-motors, the C-Series operates with a high degree of reliability at relatively lower decibel levels than previous machines. FANUC's motor system also offers increased accuracy and precision by rotational control to a fraction of a degree. These motors are designed for demanding and diverse applications.
The highly efficient servo system decreases energy consumption by generating power during deceleration. The servo-motor also stops intermittently during the cycle to save energy. The FANUC servo system can extend the life of machine components by reducing energy flow and friction while also extending the life of oil and lubricants used in the machine by design.
Features
The C-Series comes with predefined configurations that can increase the speed, accuracy, and capability in the large part market. Our integrated lock nut/tonnage system uniformly distributes clamp force and reduces mold wear while offering advanced control and improved parallelism. The C-Series features a rigid platen that matches center tonnage deflection and can accept increased max mold weights per platens. The twin cylinder injection unit distributes force evenly across the screw centerline and standard injection unit swivel for easy screw removal.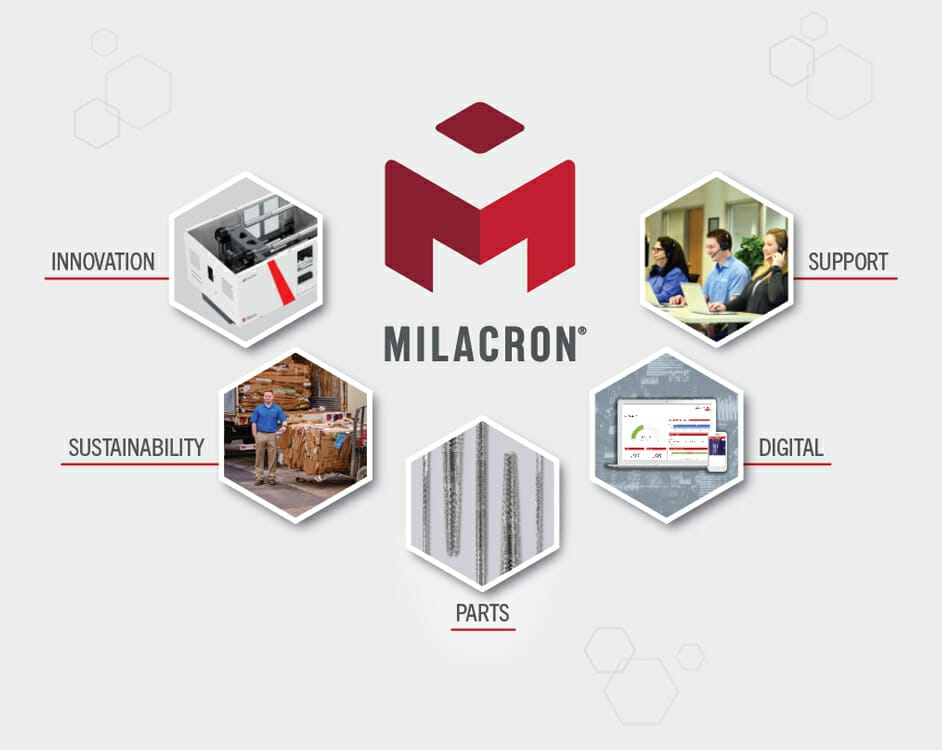 More than Machines
Milacron is the global leader in plastic processing solutions. We partner with our customers throughout the lifecycle of their equipment, helping them achieve their business goals. From sustainability consultation to training and advanced Industrial Internet of Things (IIoT) platforms, we focus on helping you leverage our industry-leading technology and talent to optimize your processes and maximize your production.
More than machines, Milacron is a partner that delivers possibilities.
Your Partner in Plastics
Milacron transforms plastics into possibilities.
Contact us today to learn more about our complete plastic processing solutions.
C-Series Clamp Specifications
| Model | Tonnage Kilo-newton | Tonnage US Tons | Tie Bar Spacing (HXV) mm | Max Daylight mm | Min/Max Mould mm |
| --- | --- | --- | --- | --- | --- |
| C-Series 1500 | 13000 | 1470 | 1650 x 1310 | 2950 | 700/1560 |
| C-Series 1700 | 15000 | 1690 | 1750 x 1400 | 2950 | 700/1560 |
| C-Series 1900 | 17000 | 1920 | 1850 x 1415 | 3400 | 700/1600 |
| C-Series 2250 | 20000 | 2250 | 1870 x 1620 | 3700 | 700/1900 |
| C-Series 2600 | 23000 | 2590 | 2020 x 1620 | 3800 | 800/1900 |
| C-Series 3000 | 27000 | 3030 | 2175 x 1750 | 3800 | 800/2000 |
| C-Series 3600 | 32000 | 3600 | 2270 x 1820 | 4200 | 900/2000 |
| C-Series 4500 | 40000 | 4500 | 2325 x 2025 | 4300 | 900/2200 |
| C-Series 6750 | 60000 | 6745 | 2900 x 2900 | 5080 | 1200/2500 |
C-Series Injection Unit Specifications
| Frame | 6610 | 10100 | 16000 | 23000 | 34000 | 48000 |
| --- | --- | --- | --- | --- | --- | --- |
| C-Series 1500 | X | X | X | X | | |
| C-Series 1700 | X | X | X | X | | |
| C-Series 1900 | | X | X | X | | |
| C-Series 2250 | | X | X | X | | |
| C-Series 2600 | | | X | X | X | |
| C-Series 3000 | | | X | X | X | X |
| C-Series 3600 | | | | X | X | X |
| C-Series 4500 | | | | X | X | X |
| C-Series 6750 | | | | | X | X |
Downloads
C-Series