Remote Service/M-Powered
Overview
M-Powered is a digital platform with a portfolio of easy-to-use observational, analytical and support services that gives you a competitive advantage. It leverages Industrial Internet of Things (IIoT) technology and runs sophisticated algorithms that utilize real-time machine learning to monitor machine operations, alerting you before any potential issues arise and providing a clear picture of overall equipment effectiveness (OEE).
When combined with our entire suite of aftermarket services, M-Powered offers a unified, holistic view of your plastic manufacturing process. M-Powered connects parts, service, rebuilds, retrofit, and preventative maintenance to our customers' machines, optimizing performance while increasing production. With M-Powered, you gain unique intelligence that gives you an unparalleled competitive advantage.
Available In
Asia/Pacific
Europe
North America
South America
Additional Info
M-Powered leverages real-time machine data providing unique insights on your plastic manufacturing process. With built-in analytics, the platform gives you a clear picture of OEE and helps identify the root cause of downtime, quality issues, and production inefficiencies. Our machine learning algorithms can also predict future problems helping you streamline your preventative maintenance schedules and reduce your on-hand part stocking. With secure remote connections, you also gain instant access to experienced Milacron technicians, minimizing time spent waiting for on-site support. 
When connected to your entire fleet of machines, M-Powered delivers quality data that leads to actionable insights, improved production, decreased downtime, and increased profitability.
Unmatched Data Security
M-Powered maintains a secure connection for remote monitoring and access to equipment. While utilizing M-Powered technology, your business is protected by a firewall establishing a secure VPN tunnel end to end. M-Powered software isolates and silos each machine and your network for ultimate protection.
We constantly monitor and improve applications, systems, and processes to provide a robust and secure solution. All our software is certified to be in compliance with International Standard Organization (ISO) 27001:2013, by DEKRA Certification B.V.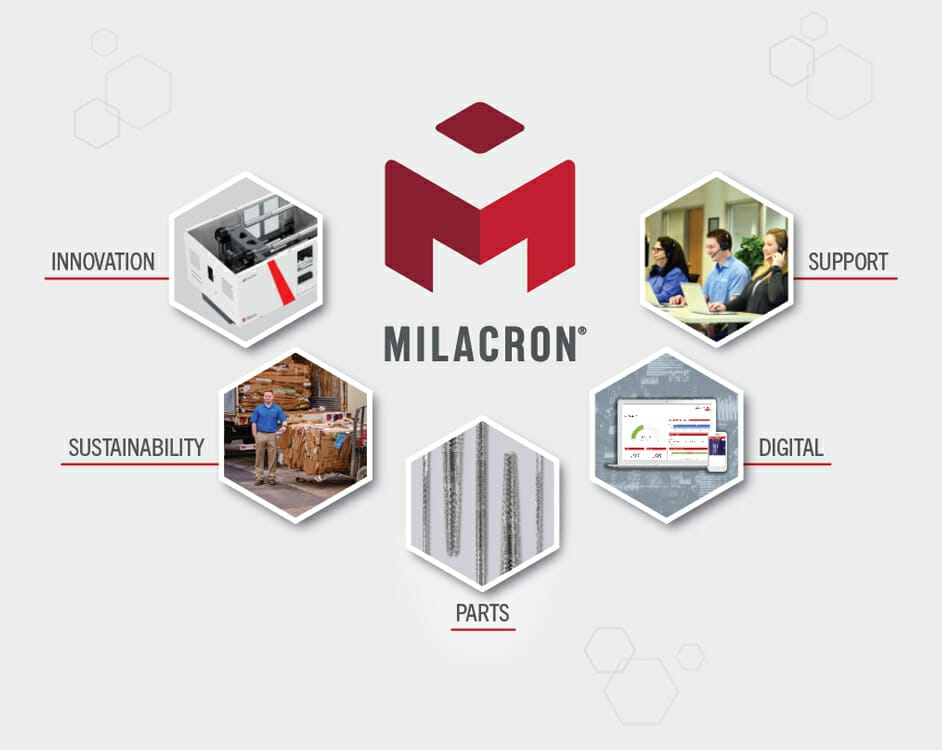 More than Machines
Milacron is the global leader in plastic processing solutions. We partner with our customers throughout the lifecycle of their equipment, helping them achieve their business goals. From sustainability consultation to training and advanced Industrial Internet of Things (IIoT) platforms, we focus on helping you leverage our industry-leading technology and talent to optimize your processes and maximize your production.
More than machines, Milacron is a partner that delivers possibilities.
Your Partner in Plastics
Milacron transforms plastics into possibilities.
Contact us today to learn more about our complete plastic processing solutions.
Downloads
Remote Service/M-Powered