L-Series
Overview
The Milacron L-Series is equipped with our industry-leading structural foam, structural web gas assist, and solid part molding technologies, extending the possibilities for large part design and conversion from other lower-volume processes.
For over fifty years, Milacron's LPIM technology has been at the forefront of the low-pressure injection market, providing streamlined production of single or multiple ultra large plastic parts in a single cycle while protecting mold assets with a rugged clamp design. Wide-ranging molding flexibility and part design is possible through nozzle sequencing allowing multiple resins or colors, all within the same shot. 
The current generation of L-Series injection machinery improves performance and energy efficiency using the latest FANUC servo drive package and state of the art controls, simplifying operations, and streamlining production. Milacron offers easy solutions for product handling, quick mold change, resin loading and blending, gas controllers, hot runner controllers, and remote diagnostics and support through our M-Powered suite of software tools.
Available In
Asia/Pacific
Europe
North America
South America
Additional Info
Ideal for molding ultra-large and thicker plastic parts, Milacron's Structural Foam Technology produces parts with a solid surface and cellular foamed core, resulting in a high strength to weight ratio. This is achieved by introducing nitrogen gas in the resin melting phase which is then released from the resin within the interior of the part during injection into the mold, causing the part to completely form to its intended shape. Thicker wall sections and detailed part designs are achieved at much lower pressures than with conventional molding using simpler and lower cost aluminum molds.
In Milacron's proprietary Structural Web technology, no gas is introduced during the resin melting phase but rather introduced through gas nozzles at specific injection locations in the mold. This process achieves part shape by producing hollow channels and hollowing out thick sections resulting in a high aesthetic sink-free finish with good color, uniformity, and cosmetic appearance. 
Features
The L-Series features a heavy-duty modular design and a large platen to accommodate ultra-large parts, family molds, and multi-part production. Platens up to 110 in. x 200 in. are available with up to 280 injection nozzle locations. 
The platform also offers either single or twin extruders to meet your processing needs. Shot sizes up to 400 lbs. enable high production throughput of up to 6400 lbs./hr. 
Developed with excellence as a baseline, the L-Series also comes with a suite of optional features to meet your production environment.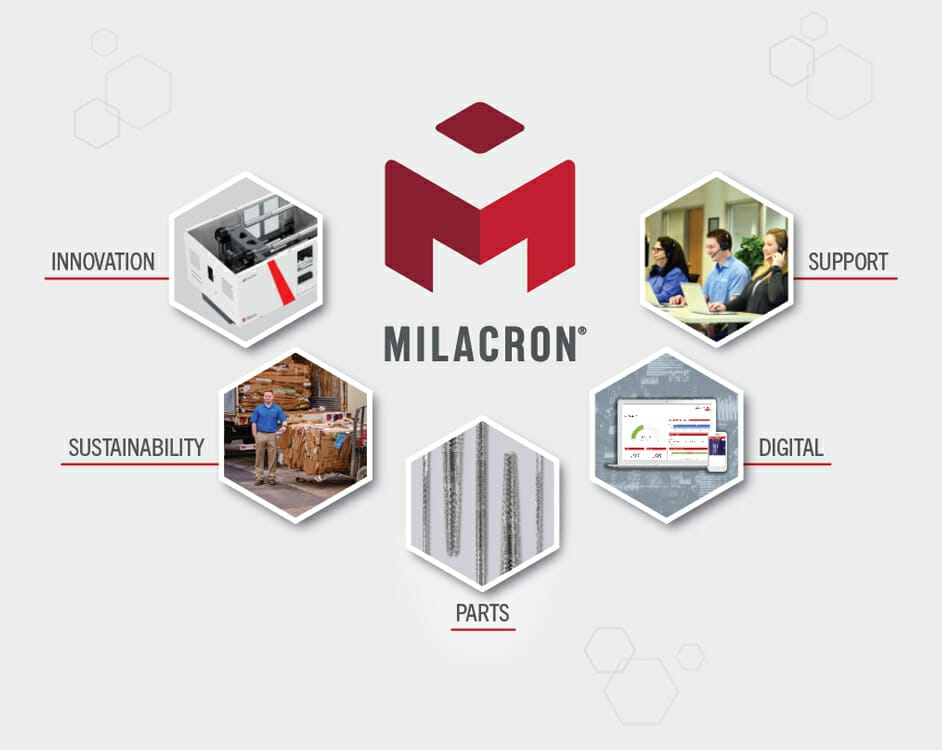 More than Machines
Milacron is the global leader in plastic processing solutions. We partner with our customers throughout the lifecycle of their equipment, helping them achieve their business goals. From sustainability consultation to training and advanced Industrial Internet of Things (IIoT) platforms, we focus on helping you leverage our industry-leading technology and talent to optimize your processes and maximize your production.
More than machines, Milacron is a partner that delivers possibilities.
Your Partner in Plastics
Milacron transforms plastics into possibilities.
Contact us today to learn more about our complete plastic processing solutions.
L-Series Machine Configurations
| Model | 500M | 750 MWP | 1000 MWP | 1000 MSWP | 1500 MHP | 2500 HMWP |
| --- | --- | --- | --- | --- | --- | --- |
| PLATEN SIZE (H X V) | 89x98 2489x2261 | 167x86 2184x4241 | 167x103 2616x4241 | 186x103 2616x424 | 161x107 2712x4089 | 200x110 2794x5080 |
| MAXIMUM SHOT SIZE PS/HDP LBS/KG | 150/120lbs 68/54kg | 200/160lbs 91/73 kg | 200/160lbs 91/73 kg | 200/160lbs 91/73 kg | 200/160lbs 91/73 kg | 300/240lbs 136/108 kg |
| MAXIMUM THROUGHPUT LBS/HR KG/HR | 2400lbs/hr 1088 kg/hr | 4800lbs/hr 2176 kg/hr | 4800lbs/hr 2176 kg/hr | 6400lbs/hr 2902 kg/hr | 6400lbs/hr 2902 kg/hr | 6400lbs/hr 2902 kg/hr |
Downloads
L-Series