Conveyors
Overview
Designed with excellence as a baseline, all our standard conveyors come with customizable options. Our experienced process engineers will help you design and implement the right solution for your process. With our industry-leading auxiliary products and unparalleled expertise, our conveyor systems will reduce your production costs and maximize your production capability.
Milacron offers a range of different conveyor options to help move parts through your manufacturing process. Our conveyors automatically transfer your products to their next stage, minimizing labor costs while increasing efficiency. Milacron conveyors come standard with a durable anodized extruded aluminum frame and 4 inch (10.2 cm) side rails, but Milacron also offers robust steel frame models for heavy duty industrial applications. Variable speed drive allowing operators to adjust belt speeds, robotic indexing capability, reversing capability, photo-eyes, and box filling systems are all available features on Milacron conveyors. Belt length standard sizes range from 3 feet (0.9 meter) to 33 feet (10.1 meters) with larger lengths available by request. Belt widths are available in standard sizes from 6 inches (15.2 cm) up to 72 inches (182.9 cm) wide, with larger conveyor systems available upon request and design review.
By offering multiple fixed-angle and adjustable-angle conveyor options. Our EAF model is a flat belt design with adjustable heights. The EAC model is set at a fixed incline. Our adjustable-angle conveyors include the EAK model with an adjustable incline and the EAR model with an adjustable decline. The EAZ model has a flat-to-incline or -decline section and back-to-flat section.
Available In
North America
South America
Asia/Pacific
Europe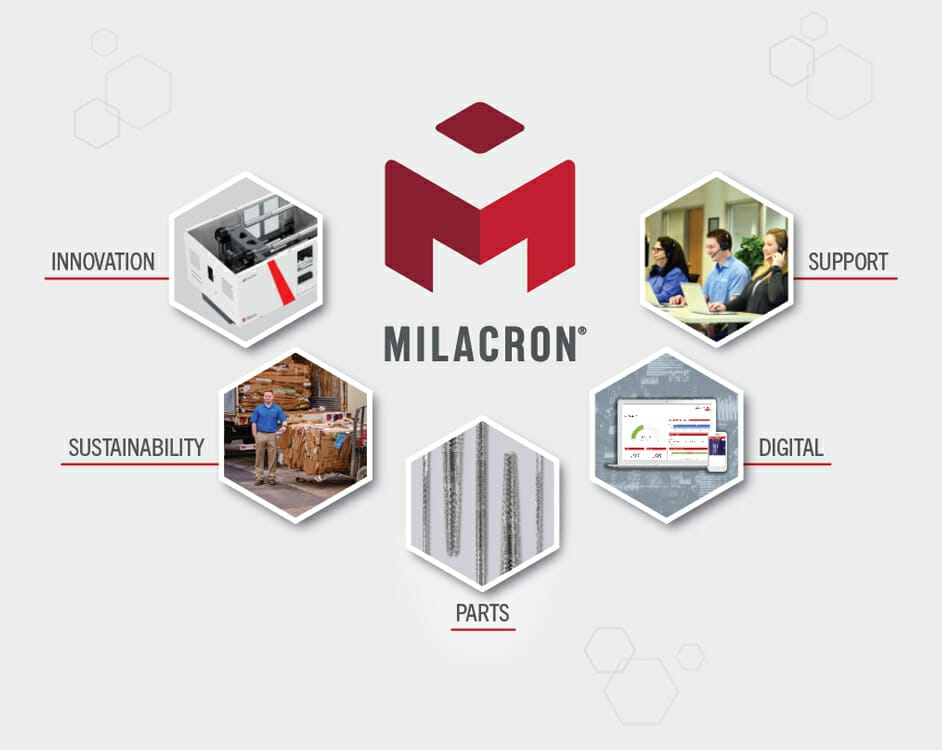 More than Machines
Milacron is the global leader in plastic processing solutions. We partner with our customers throughout the lifecycle of their equipment, helping them achieve their business goals. From sustainability consultation to training and advanced Industrial Internet of Things (IIoT) platforms, we focus on helping you leverage our industry-leading technology and talent to optimize your processes and maximize your production.
More than machines, Milacron is a partner that delivers possibilities.
Your Partner in Plastics
Milacron transforms plastics into possibilities.
Contact us today to learn more about our complete plastic processing solutions.
Downloads
Conveyors