Mold-Masters Accu-Valve
ACHIEVE THE HIGHEST QUALITY GATES, RELIABLY, FOR MILLIONS OF CYCLES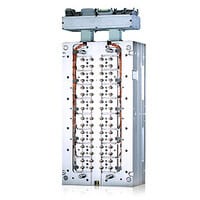 Description
Precision cylindrical gate component alignment that significantly minimizes wear that leads to gate quality deterioration. Avoid the costly maintenance and downtime associated with traditional valve gate designs. Compatible with both commodity and engineering grade resins, Accu-Valve meets the demanding needs of many Medical, Packaging and Personal Care applications.
FEATURES
Precision Alignment
Highest quality gate results.
Minimizes maintenance requirements.
Significantly lowers operating costs.
1 Year (3 Million Cycle) warranty available*.
Continuous 360 Degree Pin Guidance
Does not require direct reliance on cavity steel for pin alignment.
Significantly minimizes wear of the gate and valve pin.
Maintains critical high tolerance dimensions and concentricity.
Enhances reliability.
Extends service life.
Enhanced Thermal Profile
Uninterrupted heat transfer to the valve pin.
Helps to enhance gate cosmetics.
Widest Selection
3 models to choose from.
Optimized designs based on the application.
Enhanced fill balance, fast color change or simplified maintenance.
Capable of rapid cycle times.
Specification
Additional Info
Accu-Valve Options: CX (Fast colour change), MX (Enhanced fill balance), GX (Simplified maintenance).
Compatible Systems: Summit-Series, Master-Series or Velocity LS.
Nozzle Range: Femto-Lite to Deci
*Available 1 Year/3Million Cycle (whichever comes first) standard warranty. Conditions apply.
Financial
Product Quote