Service
Get More Uptime And Less Worry With Courtesy Plus Service
Overview
Machine uptime is crucial to any manufacturing process. At Milacron, we are dedicated to making sure the baseline status of your fleet is not compromising your production process. The Courtesy Plus maintenance program ensures you are ahead of issues that could affect your operations, leading to performance, safety and value improvements. Our mission is to help you maximize machinery safeties, quality, and production output. Through expert-level scanning of these functional areas, maintenance tasks can be easily prioritized to restore impaired operations.
With Courtesy Plus, you can expect less disruption in your plastic processing and more production.
*Courtesy Plus only available in North America.
Available In
Asia/Pacific
Europe
North America
South America
Machine Assessment Options
Our Courtesy Plus program helps you break the reactive break-fix cycle by helping to identify potential issues before they cause costly downtime. The program has three tiers, each designed to assess the health of your fleet and keep production moving.
Visual Assessment
The first tier of Courtesy Plus is a free visual inspection of your fleet. After the assessment, you'll receive a complete summary of our findings including the status of your machines, their ability to maintain high-efficiency output, and a recommended spare parts list. This gives you a high-level snapshot of the health of your machines and can help you decide what issues need immediate attention.
Machine Run Assessment
The next level of preventive care provides a deeper understanding of your fleet. An assessment is delivered outlining current equipment conditions and repairs needed to maximize productivity. The investment for the service is minimal, covering the time and travel expenses for the Milacron technician.
Full Diagnostic Assessment
Our most comprehensive level of service. We work with your team to identify a 6-8 hour time block where the machine can be extensively evaluated. A thorough report is then generated showing details on sweeping maintenance needs, from minor repairs to urgent signs of equipment failure. Our full diagnostic assessment is a larger investment but pays off in machine uptime.
Preventative Maintenance Program
Our Preventative Maintenance Program is customized specifically for your fleet of machines and helps maximize machinery uptime, productivity and reliability. You can choose the frequency level, from monthly to quarterly, or annually to suit your operational needs. With this program, you reduce the need to hire, train and retain technicians by supplementing your existing staff with our OEM-trained technicians.
With Milacron's Preventative Maintenance program, you can optimize your existing team and minimize downtime risks. Our program helps streamline your plastic manufacturing process and lower operating costs.
Service Labor Agreement
Milacron combines remote technical support with field managers and technicians to provide comprehensive support to our clients. A blanket Purchase Order, based on annual contract anticipated hours, provides immediate service visit scheduling. We also offer an innovative rebate program for using certified Milacron Field Service representatives where clients can earn rebates on their next OEM Parts purchase. Talk to a Milacron Sales Representative to learn more.
Remote Service via M-Powered
M-Powered IIoT solutions provide production monitoring, predictive analytics, and remote technical support. Data gathered from production monitoring across the global fleet is continuously analyzed. The benefit of M-Powered monitoring and analysis is real-time alerts and actionable recommendations to help predict and reduce failures of screws, screw tips, heaterbands, hydraulic pumps, etc. When needed, M-Powered remote service provides timely access to experienced technicians. Combined, the powerful offerings of M-Powered prevent costly downtime problems before they happen.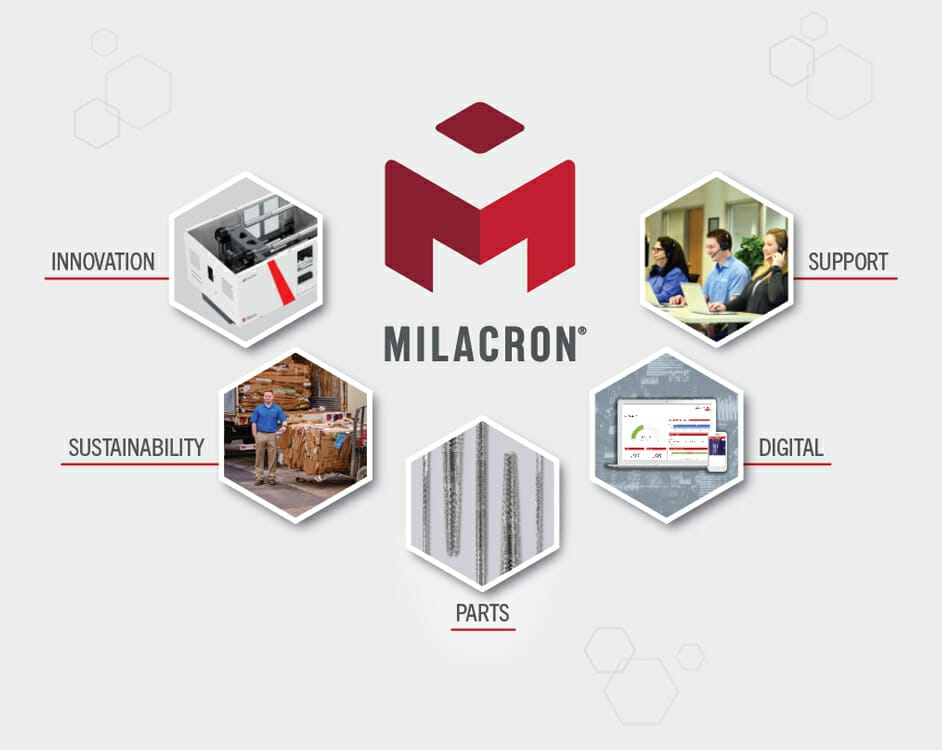 More than Machines
Milacron is the global leader in plastic processing solutions. We partner with our customers throughout the lifecycle of their equipment, helping them achieve their business goals. From sustainability consultation to training and advanced Industrial Internet of Things (IIoT) platforms, we focus on helping you leverage our industry-leading technology and talent to optimize your processes and maximize your production.
More than machines, Milacron is a partner that delivers possibilities.
Your Partner in Plastics
Milacron transforms plastics into possibilities.
Contact us today to learn more about our complete plastic processing solutions.
Downloads
Service